A Responsible Approach to a Better lawn
We like to grow beautiful turf while protecting your ecosystem through a responsible balance between nature and your environment. It is our standard practice to only apply controls where needed as needed to resolve specific lawn, tree and shrub problems.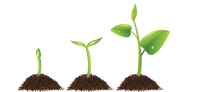 Lawn Medic provides you a high level of expertise to give your lawn exactly what it needs to thrive utilizing less fertilization visits and treatment controls. It truly is a balanced approach yielding better results.